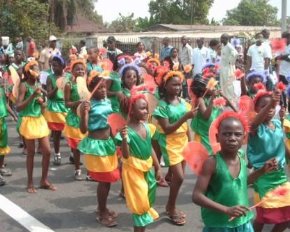 browse (1 / 5)
Cross River State is a coastal state situated in southeastern Nigerian bordering Cameroon to the East. It is named for the Cross River which runs through the state. Calabar, the State Capital is considered the tourism capital of Nigeria.
Each year, thousands of visitors are attracted to the Cross River Christmas Festival. The Festival includes international and local artists, the Calabar Carnival, boat regatta, fashion shows, Christmas village and traditional dance displays.
In 2004, Governor Donald Duke initiated the Cross River State Christmas Festival. This festival has become a most anticipated and talked about event attracting thousands of people from within Nigeria and beyond. It is a spectacular occasion, with 31 days filled with celebration, culture, music, art, and endless activities. The Cross River State uses the occasion to showcase the rich culture, history and natural beauty of the State and celebrate its African heritage.
The Festival begins at the end of November with the Xmas Tree Lighting Ceremony. Dotted around the many interesting venues within the region, visitors can attend fashion shows, food demonstrations, cultural exhibits, talent shows, music concerts, funfairs, carol services, parades and picnics. The annual Boat Regatta is a colourful display of flamboyantly decorated boats pitting local riverine teams against each other.
The Calabar Carnival which has become the highlight of the festival is a showcase of performing arts and cultural heritage. Each year participants demonstrate their skills, routines, masquerades and magnificent costumes during a parade that promenades along a 12km route through the city of Calabar.