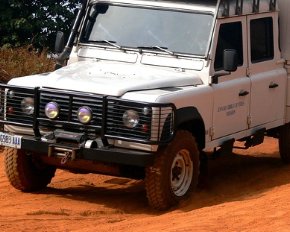 browse (1 / 5)
The picturesque Mambilla Plateau that can be found in the southeast corner of Taraba State shares a border with Cameroon. The Mambilla Plateau is a high grassland plateau that averages about 1800 meters. The Mambilla Plateau is an exclusive topographic area with some of the biggest and highest mountains in Nigeria – some of the peaks are over 1840m.
Tourists will enjoy the glorious scenery the Mambilla Plateau has to offer, and will see this as a cool and enjoyable change from the warmth and humidity of Lagos. The Mambilla Plateau is ideal for those wanting to try out their four wheel drives. Seeing that the roads are still under construction, visitors are advised to pack in the basics, camping gear and food. As an alternative, guests can also stay at one of the few hotels on the plateau.
The Park offers tourists a gorgeous location that is well worth a visit. The Mambilla Plateau has an abundance of cattle ranches, several tea plantations and undulating, grassy hills. The fauna and flora of the Mambilla is different from the rest of Nigeria, and visitors will find some rare species of birds and animals here.
Good news for those wanting to travel to the Mambilla Plateau is that it is very accessible. There is a main road that goes to Mambilla from Lagos, Onitsha, Otukpo, Benin City, Enugu, Yandev, Wukari, Katsina Ala, Serti, Gembu and Bali. Those wanting to go by air can fly into the Yola Airport, and drive from there to Mambilla which is only a few miles south from the airport.