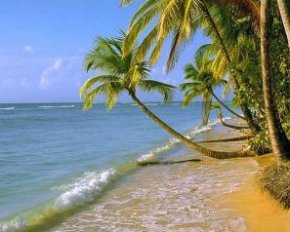 browse (1 / 3)
Nigeria has over 700km of unpolluted sandy beaches which provides "Blue Lagoon" privacy and seclusion. Paddle to Calabar Beach which is situated at the mouth of the new Calabar River which is about two miles long and 500 feet wide. Calabar Beach is flanked by a swamp and can only be reached by boat or canoe that ensures a mystical adventure on the water as anybody else at the beach will also be stranded. There are fewer tourists at this uninhabited beach and the only sign of habitation is a solitary fisherman's hut.
The beach is virtually isolated and lends visitors the luxury of privacy Not just for water sports enthusiasts, these tourism developments of caves, tunnels and waterfalls attracts even the most dedicated couch potato to the active lifestyle. The weather is mostly normal along the coast as Nigeria lies in the tropical zone so an island adventure is guaranteed. The temperature rises up to 32 degrees but high humidity makes the nights extremely hot and the romance steamy or the adventure more heated.
Pack a picnic to have on the water or explore the coast while exercising your arms in the canoe or swimming or shading your eyes from the sun. This beach may seem like a mirage as the sand continues for miles without any pollution or people. When the silence gets too much, head back to civilisation or the camp but Calabar Beach is not easily forgotten as you can always try to recapture that relaxation in your mind to avoid stress or escape from work pressures.