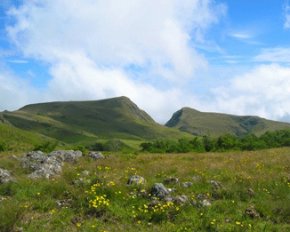 browse (1 / 5)
Welcome to Chappal Waddi inhale the jungle and let remote paradise penetrate your soul. A phenomenally exhilarating climb awaits you from the vast hilly and rugged terrain crossed by leopards and grazed by buffalo to the fabulously lush emerald green jungle inhabited by fascinating primates, Chappal Waddi is truly a feast for your senses.
Located in the Southern sector of the Nigerian Gashaka Gumti National Park on the border of Cameroon, Chappal Waddi (Mountain of Death) is considered the highest peak in Nigeria at 2419 meters. It is largely undiscovered leaving the door open for you to venture into a world very few, if any, have experienced. Feel the rocky riverbed under your feet, see the strange and wonderful fish swim around your legs as you walk the cool flowing rivers. As the Black & White, Colobus and Putty Nose monkeys peer at you through the big leaves of this emerald gem and you hear the Red River Hogs and Warthogs charge through the jungle let the thrill of this wonderful Eden seep under your skin.
Plunging valleys leave you breathless and the churning in your stomach feels like you just swallowed the brilliantly multi-coloured butterflies that flit around you on the thick forested slopes. As you step through this adventure with thrilling trepidation at what wonderful site you are going to encounter next you explore further into a vast fantasy come to life. Mischievous chimps, gushing waterfalls, crystal pools, paradise is attainable it's just the world's best kept secret.