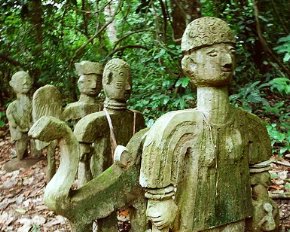 browse (1 / 3)
This World Heritage site located in Osun State, South West Nigeria is considered to be the cradle of Yoruba cultural traditions. It is believed that Oso-igbo (Also known as Osun), the goddess of the Osun River was the Queen and original founder of Osogbo. The goddess of fertility, protection and blessings, she possessed the ability to give children to barren women, could heal the sick with the medicinal water from the river and possessed magical powers that were used to help settle the city and build the region's power.
The dense forest of the Osun Sacred Grove is one of the last remnants of primary high forest in southern Nigeria. It was customary for cities of the Yoruba people to have a sacred forest just outside their limits. Development and urbanization has seen the bulk of these forests destroyed. The sacred grove, seen by Yoruba people as their symbol of cultural identity is considered the last in Yoruba culture and, as a result, many Yoruba people travel to visit the grove. Osun-Osogbo is a unique opportunity to experience a near pristine example of one of these sacred forests.
The forest holds an abundance of shrines, works of art, sanctuaries and sculpture largely devoted to the goddess Osun. Meandering through the forest is the beautiful Osun River. Walking the site with a guide can be a most rewarding experience.
Osogbo, the town situated nearby has a fairly large ex-pat community and the locals are very welcoming of foreigners. The vibrant arts and culture scene is well established and provides many entertaining activities for visitors.