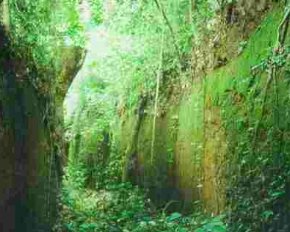 browse (1 / 3)
Built around 1000 AD and taking two centuries to complete, Sungbo's Eredo 100-Mile-Long wall is a system of walls and ditches that surround the Yoruba town of Ijebu-Ode in Ogun state southwest Nigeria. The wall is thought to have served as a boundary and protective defense to the ancient city. It is reputed to be the largest single pre-colonial monument in Africa.
During construction, it required more earth to be moved than the Pyramid of Giza in Egypt. It is more than 100 miles (160 km) in circumference with certain sections reaching 20 meters in height. It encloses an area 25 miles (40 km) north to south and 22 miles (35 km) east to west.
The Eredo is linked to the Queen of Sheba, a story retold in both the Bible and the Koran. The Old Testament version recounts the Queen of Sheba sending a caravan of gold, ivory and other goods from her kingdom to King Soloman. The Koran tells of an Ethiopian incense trader and sun worshiper named Bilqis who converts to Islam. According to local legend, the Eredo is a monument to a wealthy, childless widow named Bilikisu Sungbo. Her grave is located in Oke-Eiri to the north. Pilgrims of Christian, Muslim and traditional African religions visit the site annually to pay homage.
Whilst the site has drawn worldwide media attention in recent years, it is still very much undeveloped. The eredo is now largely covered by rainforest and virtually hidden by the trees and creepers that festoon its sides making it seem as if you have stumbled on an unknown treasure.