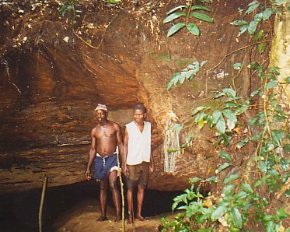 browse (1 / 3)
Arochukwu is the third largest town in Abia State (after Aba and Umuahia) in southeastern Nigeria. It is one of the few existing kingdoms, not only in Nigeria but in Africa as a whole; it still practices the monarchical system of government. A few personalities have their roots in Arochukwu such as the late Educationalist Mazi Alvan Ikoku (1900-1971) and the football sensation, Nwankwo Kanu who played for the likes of Ajax and Arsenal in the European football leagues.
Apart from being the place of birth of such influential Nigerian personalities, Arochukwu also boasts several historical tourist sites, most notably the shrine or oracle known as Ibinu Ukpabi, or the Long Juju. What makes this shrine stand out among the other historical sites in the region is the role it played in the slave trade era and thus the impact it made in Nigeria's history. The shrine is about a kilometre long and existed from the 17th century. The shrine was administered by a group of cultists, who were led by a chief priest. They ran an economic and socio-political ring that effectively controlled the region east of the Niger River, and as such had an effect on many people even before the arrival of colonialism.
As colonial Britain began its assault on kingdoms around the River Niger, the shrine brought these communities together as it became something of an apex court for people living east of the Niger. Due to the great influence of the Long Juju, shrine stewards and lower members of the Juju cult migrated to clans south of the Niger and settled. In their new abodes, they served as emissaries and informants to the Long Juju. They relayed information on disputes to the shrine and equally arranged trips to the latter and thus a Long Juju network was established in the region. As the slave era peaked, the Long Juju deviously used its influence in the area to profit from the transatlantic slave trade. With the Long Juju network already established, trading posts and slave quarters together with satellite shrines were set up in different villages all over the region where small litigations could be handled. Those found guilty were almost always sent to the cave temple of Chukwu as sacrifices to appease the Great deity Chukwu (whom the shrine symbolised). However these people were sold to European slave merchants. Thousands met their fate in this manner.
The Long Juju stronghold was however destroyed by the British as their quest for colonial power led to their decision to wage war on the Long Juju and the network it had established in the region. The mystic Long-Juju shrine, the slave routes and other relics of the slave trade era have become important tourist attractions in the area as a result of what they represent in Nigeria's history.