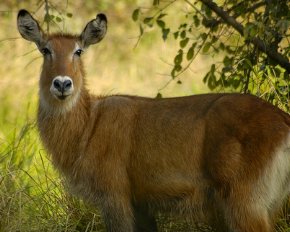 browse (1 / 4)
Yankari National Park, the most popular of the eight national parks in Nigeria is rich in wildlife. Its location in northeastern Nigeria in the heart of the savanna enables visitors to view wildlife in its natural habitat. Over 50 species of mammal can be spotted here including African Elephant, Olive Baboon, Western Hartebeest, Lion, Buffalo, Waterbuck, Warthog, Bushbuck, Patas and Tantalus Monkey and Hippopotamus. Yankari is home to the largest populations of elephants in West Africa with estimates of around 500. Over 350 species of resident and migratory birds, such as the White-rumped Vulture, Guinea Fowl, Grey Hornbill, Saddle-billed Stork and Cattle Egret, have been recorded. The dense vegetation of the area makes game viewing best between February and April. Visitors can arrange walking tours or guided tours on specially adapted trucks.
Several springs dotted through the park including the most popular Wikki Warm Springs, are created by underground geo-thermal activity. Wikki is located near the park lodge and contains magnificent crystal clear spring water at a comfortable 31 degrees Celsius open 24 hours a day. Visitors are often treated to an up-close experience with baboons and elephants that come down to drink at the springs.
The park also contains several archeological, cultural and historical preserves including the Dukkey Well System and the Ampara and Shanshau iron smelting works and furnace shafts which date back many centuries. Accommodations at Yankari are varied, from hostels for youth and budget travelers to "presidential" chalets. Indoor and outdoor sports facilities, a restaurant, bar, museum and a conference center located within the park. "Safari" trips leave from Wikki camp twice daily.